Hi! I'm Madalina Coman, and I am an Associate Marriage & Family Therapist. Twenty years ago, I made the move from Europe (Romania) to California and started my life in the Bay Area. I have a diverse clinical background working with a variety of clients seeking support through a broad spectrum of psychological, medical, academic, spiritual, and social challenges.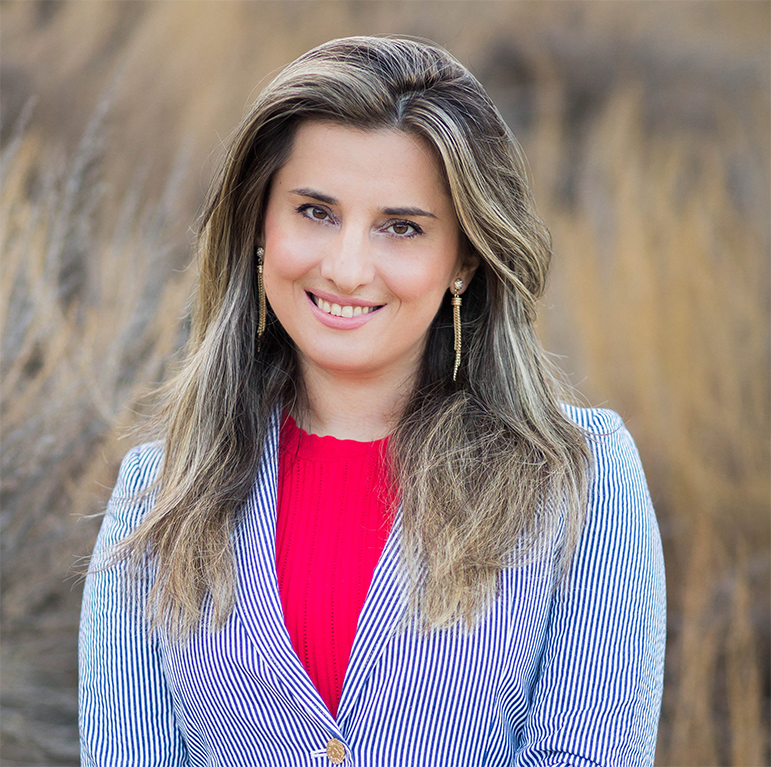 My experience spans from working as a school counselor, to working in clinics and non-profits with adolescents, adults, couples, and families, to participating on an interdisciplinary team within intensive outpatient and partial hospitalization psychiatric facilities for severely mentally ill adult and geriatric patients.
It is my passion to help my clients lead fulfilling lives and cultivate nourishing relationships. I welcome clients of all cultural and socioeconomic backgrounds. In my practice, therapy is as diverse as my clients; I believe every individual is different and each requires a unique perspective and different level of support. I especially enjoy working with teens, adults, and couples and because no single approach is right for everyone, I have trained in and use a balanced blend of client-centered and empirically-based approaches to help you reach your goals. More specifically, my work is informed by the following therapeutic orientations: Psychodynamic, Humanistic, Cognitive-Behavioral (CBT), Emotionally Focused Therapy (EFT) for Couples, and Acceptance and Commitment Therapy (ACT).
In my free moments, I enjoy writing poetry (I've written two books), traveling, sampling new coffee and spending time with friends and family. My husband and I have been together for 21 years and have two children and two cats together. We love spending as much time as possible enjoying the outdoors: hiking, skiing, gardening, camping, etc.
My Approach
As a psychotherapist, the most important thing I can offer my clients is to be an open-hearted and closely listening companion in a safe and compassionate space for rest and growth. Patty Wipfler writes, "When you give another person your full, warm attention, you help their body and their mind move toward better functioning." By listening from a grounded, spacious, non-judgmental place, I help to provide a sense of regulation as people navigate distressing and challenging life experiences. As interpersonal neurobiologist, Dan Siegel, writes, "Find people who regulate you well, and stay near them." Especially in these turbulent times, just having a trusted person who sees you clearly, and time spent focused on your own struggles and celebrating your progress, can be tremendously healing. It is an honor to sit with clients, hear their experience, and help them explore what they most value.
What I've learned in my over 10 years of experience providing mental health support in the Bay Area (in English, Romanian & Spanish) in different settings and capacities (from volunteering on the National Suicide Line, in hospice and domestic violence shelters, to working in community mental health clinics) is that clients often fear that their problems will be overwhelming. Paradoxically, even when experiences are frustrating, grim or frightening for clients, sharing them in therapy is typically relieving, enlivening and even joyful. Alternatives then become possible. Therapy can help. Hurtful expectations and habits can be retired, and new habits of relating to life and others can be implicitly learned, or chosen and implemented.
I consider myself a lifelong learner, and strive to expand on my training, knowledge and expertise with ongoing learning through research, continuing education, and regular consultation with other experts in the field. We are at an exciting moment in the history of mental health treatment, which I am pleased to be a part of, particularly as it pertains to neuroplasticity and the brain, and what it teaches us about the capacity for healing and change in each of us.
Education & Certifications:
BA Foreign Languages & Linguistics – Romania (2004)
BS Marketing & International Business – San Francisco State University (2013)
MA Counseling Psychology (Health Emphasis) – Santa Clara University (2018)
Recipient of Palo Alto Psychoanalytic Psychotherapy Training Program Fellowship (2019)
Professional Certification in Trauma-Informed Interventions – UC Berkeley Extension (2020)
MS Forensic Psychology – Arizona State University (expected Dec, 2021)
MA Criminal Justice – Arizona State University (expected Dec, 2021)
Training
Emotionally Focused Couples Therapy 4-day Externship w/ founder Dr. Sue Johnson & Dr. Sam Jinich (2018)
Acceptance & Commitment Therapy 4-Day Bootcamp w/ founder Dr. Steven Hayes (2018)
Introduction to Somatic Experiencing 2-Day Workshop w/ founder Dr. Peter Levine (2019)
Gottman Couples Therapy (Level 1) with founders Drs. John & Julie Gottman (2020)
Emotionally Focused Couples Therapy 4-day Externship w/ Dr. Rebecca Jorgensen & Dr. Scott Woolley (2021)
Gottman Couples Therapy (Level 2) with founders Drs. John & Julie Gottman (2021)
Brainspotting (Phase 1) with Lisa Larson, LMFT (2021)
Emotionally Focused Couples Therapy (Core Skills) w/ Kathryn de Bruin, LMFT (2021)
Emotionally Focused Individual Therapy (Level 1) w/ Lorrie Brubacher, LMFT (2021)